PlayGround Returns to New York for April 15 Benefit!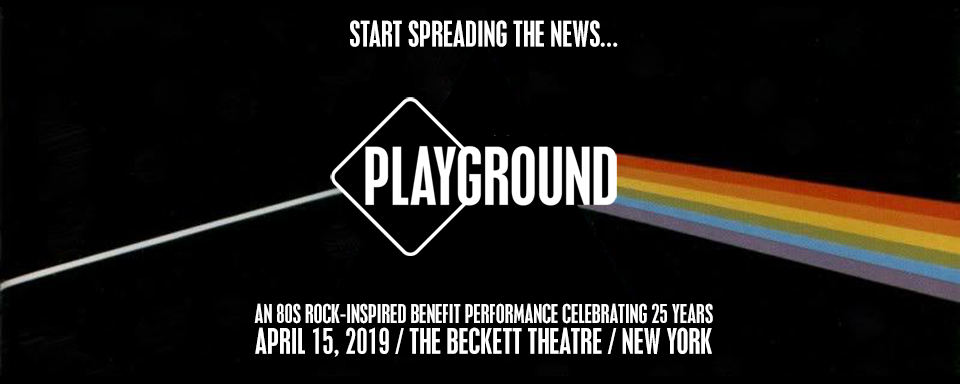 "Start spreading the news!" PlayGround will celebrate its 25th Anniversary and long-awaited return to New York on Monday evening, April 15, at Theatre Row's Beckett Theatre (410 W 42nd Street), with an 80s Rock-inspired Benefit Performance. The evening will feature original short musicals by PlayGround alumni Patricia Cotter, Vincent Terrell Durham, Ruben Grijalva, Garret Jon Groenveld, Julianne Jigour, and Katie May (and additional writers to be announced), inspired by the prompt "Twist of Fate" and featuring 80s rock music sung by the cast of leading New York actors. Admission includes the performance and a post-show reception with the artists ($50, general admission; $125, preferred seating; $250, Producers Circle, including VIP seating, a Sunday eve dinner with the playwrights, Honorary Committee recognition, and more). All proceeds benefit PlayGround's 25th Anniversary Season and award-winning new play incubator programs. For more information, visit http://playground-sf.org/benefit.
The New York City Benefit will be PlayGround's fifth project in the Big Apple, following co-productions of Garret Jon Groenveld's Missives (2008, 59E59 Theaters), Aaron Loeb's Abraham Lincoln's Big Gay Dance Party (2009, NYCFringe & 2010, Theatre Row), and Katie May's Manic Pixie Dream Girl (2013, NYCFringe), all of which were commissioned by PlayGround and originally developed through the annual PlayGround Festival of New Works. Most recently, May's Abominable was featured at the Lark's 2015 Playwrights Week, following its initial development at the PlayGround Festival and subsequent PlayGround Festival premiere.
PlayGround is a leading playwright incubator and theatre community hub based in San Francisco. Co-founded in 1994 by PlayGround Artistic Director Jim Kleinmann, playwright Brighde Mullins, and director Denise Shama, PlayGround provides unique development opportunities for the Bay Area's and Los Angeles' best new playwrights, including the monthly Monday Night PlayGround staged reading series, annual PlayGround Festival of New Works, full-length play commissions, and support for the production of new plays by local playwrights through the New Play Production Fund. To date, PlayGround has supported over 200 California playwrights in the development and staging of more than 850 original short plays and 77 new full-length plays, with 6 more commissions currently in development. PlayGround also operates Potrero Stage, a state-of-the-art 99-seat black box theatre in San Francisco's Potrero Hill neighborhood, home to some of the Bay Area's leading new play developers and producers, including PlayGround, Crowded Fire, Golden Thread, and Playwrights Foundation. For more information, visit http://playground-sf.org.