PlayGround Company in the News Dec-2018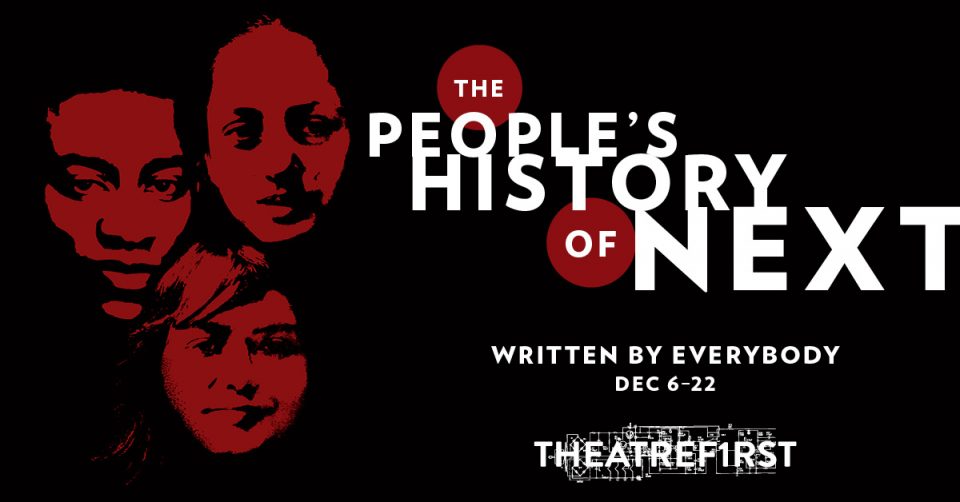 Read on to learn more about PlayGround Company Member and Alumni recent news, current happenings, and upcoming events.
PlayGround alum Geetha Reddy and resident Cleavon Smith along with Lauren Gunderson are supporting 3 young playwrights/performers in their development of THE PEOPLE'S HISTORY OF NEXT which kicks off the TheatreFirst 2018-19 season beginning on the 6th of December at Live Oak Theater in Berkeley.
Mary Baird will be doing a reading of a DOLL'S HOUSE 2 in Palm Springs at Coyote StageWorks.
Michael Barrett Austin, Akaina Ghosh and Gwen Loeb are preparing for a workshop of San Francisco Shakespeare Festival's new musical production of AS YOU LIKE IT with music by the Kilbanes and directed by Rebecca Ennals.
Julia Brothers will be performing the role of God in the Kilbane's rock opera WEIGHTLESS at The Public Theatre's Under The Radar Festival, Jan 3rd – Jan 13th in NYC.
Rachel Bublitz's full-length play RIPPED will have its World Premiere production with Z Space in San Francisco in May of 2019. The production will run through June and will be directed by Z Space's Executive Artistic Director Lisa Steindler.
Tom Bruett co-wrote a play called CAUGHT UP that runs at Gritty City Rep in Oakland from December 6-15.  
Ron Campbell will be the Ringleader/Master of Ceremonies for The Lone Star Circus's CIRQUE JOYUEX  in Texas starting Dec.14th to Jan. 4th.
Rob Dario read fantastical 5th Grade playwrights' work at Starr King Elementary School in San Francisco through StageWrite's young playwrights program.
Jerome Joseph Gentes has a workshop production of his musical THE RIGHT NOTE coming up in late November-early December at the Phoenix Theatre, produced and directed by fellow PlayGround writing pool member, Laylah Muran de Assereto and her company, Spare Stage. THE RIGHT NOTE updates Shakespeare's Twelfth Night to our contemporary world, where the major characters are competing on a singing reality TV show called The Right Note. Created with composer and co-lyricist Rice Majors, and the show runs Friday & Saturday at 8pm and Sunday at 2pm on the weekends of November 30 – December 2 and December 13 – 15. Tickets and more info are available here now.
Cindy Goldfield is enjoying her 15th season performing in ACT's A CHRISTMAS CAROL.  
Rosie Hallett and Lauren Spencer are performing in MEN ON BOATS at ACT's Strand Theatre, now through December 16.
Eric Fraisher Hayes will be directing Eugene O'Neill's THE GREAT GOD BROWN in January for the Eugene O'Neill Foundation, Tao House.
Elayne Heilveil  has a piece in the new 'Best Ten-Minute Plays of 2018' (Smith and Kraus) out this month.  She also just received notice that her long monologue from a play called NIGHTIE NIGHT will be included in the upcoming 'Best Women's Stage Monologues of 2019'.
Brian Herndon is playing Scrooge in SCROOGE IN LOVE at Lucky Penny Productions in Napa, now through December 16!
Michelle Ianiro's  short play ELEANOR AND ME will be staged read at Custom Made Theatre's Discover New Works on Sunday 12/9 at 7:00pm.  Directed by Stuart Bousel. Letting go of the past and forging a new beginning is all well and good, but it's a strange and complicated world that both Eleanor and Diana must learn to inhabit together…if they don't kill each other first!
Gwen Loeb just closed GRAVEYARD SHIFT at SF Playhouse.   
Melissa Ortiz is playing Lizzy Darcy in THE WICKHAMS: CHRISTMAS AT PEMBERLEY at Marin Theatre Company, now extended through December 16.
Lana Palmer was invited to attend the Reykjavik International Film Festival Talent Lab in October, and was nominated for a 2018 TBA Award for Best Original Music for Inferno Theatre's DRACULA. In 2019 she will be directing Rajiv Joseph's THE NORTH POOL for Bread & Butter Theatre (Opens January 2019 at Potrero Stage), and Sarah Treem's THE HOW AND THE WHY, opening July 2019 at Dragon Theatre, as well as a staged reading of MIDDLETOWN by Will Eno with Actors Ensemble of Berkeley (January 2019).
Joseph Patrick O'Malley will be appearing in CREDITORS at Aurora Theatre Company, Opening Jan. 25th.
Julius Rea play SARAFAL  will be performed at Adelines' Lab December 6-8, directed by directing apprenticeship alum, Kieran Beccia.   After her childhood friend accuses her brother of rape, Ari faces the reality of believing both a sexual attacker and victim. This ethereal and explosive drama tackles the struggle of communication and repression as audiences watch Ari enter the mind of a trauma survivor.
Katja Rivera is in rehearsals for HONKY, opening on 2/1/19 at RPE in Danville.
Stacy Ross will next be seen in WHEN WE WERE YOUNG AND UNAFRAID  at Custom Made Theatre Co. She also has a new Website.
The ten-minute version of Diane Sampson's THE TALE OF SLEEPING CUTIE, originally written for a Monday Night PlayGround and later expanded into a full-length musical co-produced by PlayGround, will receive a staged reading on New Year's Eve in Rockport MA and again on Jan.12 in Gloucester. It's one of eight short plays chosen for Rockport's Annual New Year's Eve festivities.  Additionally, her play, THE GREATER GOOD, is one of six finalists in Playhouse on the Square's (Memphis, TN) New Works competition. It will receive a staged reading there in early December. Two of the six finalists' plays will be selected for full productions in the theatre's 2019-2020 season.
Robert Sicular stars in California Revels' THE ANCIENT MYSTERIES OF ANDALUSIAN SPAIN playing December 8th, 9th 14th 15th and 16th at the venerable Scottish Rite Temple on the shores of Lake Merritt in Oakland. Revels is a great holiday tradition excellent for the whole family!
Nic Sommerfeld will be playing the Tin Man in THE WIZARD OF OZ at Berkeley Playhouse, November 10th through December 23rd!  
Arisa White recently accepted a tenure-track position, teaching poetry, at Colby College in Maine. She's successfully completed her first semester! In February 2019, Biddy Mason Speaks Up, a blended nonfiction and historical book for young readers 9-14 years old, co-authored with Laura Atkins, will be released by Hey Day Books. It received a starred Kirkus Review, and was noted as being a "Difficult but necessary, inclusive and respectful, this book does a beautiful job of telling truths about our history and how we construct it."
Lauren Yee's play CAMBODIAN ROCK BAND will be featured as part of  La Jolla Playhouse's 2018-2019 season.