PlayGround Company in the News April-2019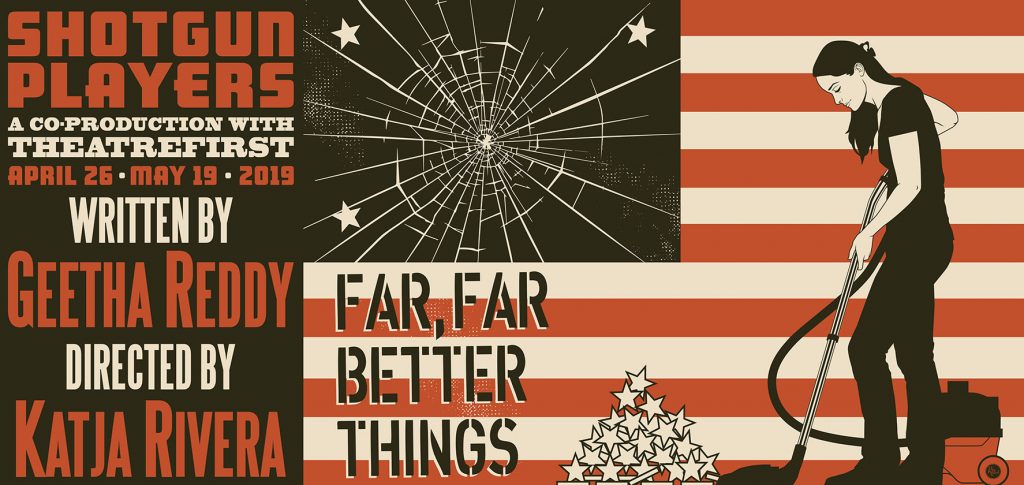 Read on to learn more about PlayGround Company Member and Alumni recent news, current happenings, and upcoming events.
Geetha Reddy's play FAR, FAR BETTER THINGS will be presented by Shotgun Players as a co-production with Theatre First.  Directed by fellow PlayGrounder Katja Rivera, it will run from April 25 through May 29 at Live Oak Theatre. 
Katie May, Doyle Ott, Laura Espino, Patrick Russell, Elena Wright, Sean Garahan Stephanie Prentice, Steven Westdahl, and Sarah Gasser are starting a 2 week workshop of Katie May's play, A HISTORY OF FREAKS, in preparation for its world premiere in May as part of the PlayGround Festival of New Works.
Lynn Aylward's full-length play, THREE CHORDS AND THE TRUTH, was a semi-finalist for the 2019 Bay Area Playwrights Festival and for Berkeley Rep's summer residency program, The Ground Floor.

Michael J. Asberry is performing in WHEN WE WERE COLORED with the Sacramento Theatre Company, performing 3/20/19 – 4/28/19.

Michael Barrett Austin and Gwen Leob will be workshopping SF Shakespeare's new musical version of 'As You Like It' this April in preparation for its summer production

Julia Brothers will be appearing as God in WEIGHTLESS, a rock opera by The Kilbanes, at ACT's The Strand Theatre, April 29 0- May 12, 2019. Tickets at: www.tickets.act-sf.org

Rachel Bublitz is thrilled to have had her play Burst named a semi-finalist for Playwrights Foundation's 2019 Bay Area Playwrights Festival. In other good news, her full-length play RED DAYS will receive a staged reading at Weber State University Thursday, April 18th.
Nancy Carlin is acting in an ensemble movie directed by Eleanor Coppola with nine other inspiring actress contemporaries.

Britney Brit Frazier and Margo Hall have been selected for the Aurora Theatre Company's newest Originate + Generate (O+G) artist commission to create a new, evening-long work specifically for one of the Aurora stages. Its working title is LAVEAU.

Sarah Gasser is stage managing the world premiere of PRESS HERE at Bay Area Children's Theater, which runs from March 30 through June 30.

Cindy Goldfield is working as a script supervisor for Epic Games keynote at the GDC, casting director for D'Arcy Drollinger's upcoming film SHIT AND CHAMPAGNE, and prepping to direct ONCE for 42nd Street Moon in May.

Daryl Anthory Harper will be co-starring as a Football Referee at a Baseball game in the short comedy feature, TAKE ME OUT TO THE BOWL GAME, written and directed by Jesse Eisenhardt, shooting on Sunday, March 31st, 2019!

Brian Herndon is playing the English-speaking Father in a blended ASL/English production of EURYDICE at City Lights Theater Company, March 14-April 14.

Daniel Hirsch's screenplay Sheepish, about a scientist who studies gay sheep (seriously!), was recently a finalist for selection in the Hamptons International Film Festival Screenwriters Lab and SF Indie Fest.

Genevieve Jesse's full-length play The Diaspora Cycle is a finalist for the 2019 Bay Area Playwrights Festival.

Alanna McFall's debut novel, The Traveling Triple-C Incorporeal Circus, is now available for pre-order through Atthis Arts publishing. Order now to learn what happens when two ghosts and a mime go on the road trip of their (after)lives. https://www.atthisarts.com/"

Ross Peter Nelson contributed several skits, a song, and a handful of limericks for the biannual Montana legislative comedy show, Saturday Night Live in Helena, running at the Myrna Loy Center Mar 20-23.

Molly Noble just closed THE SKIN OF OUR TEETH at The College of Marin with an amazing team of designers, crew and actors. She'll be on a walking pilgrimage this summer and returns in the fall to direct plays by Will Eno and Molière. She continues to be inspired by her PlayGround theatre family.
Carla Pantoja directed SF Shakespeare Festival tour of THE COMEDY OF ERRORS that rolls out to schools, libraries, and communities in the Bay Area. The show runs from January -April. www.sfshakes.org.

Louis Parnell will next be appearing in FOR HONOR by Lee Sankowich which will open the end of Aril and then he goes immediately into rehearsal for CABARET at the San Francisco Playhouse which plays June through September 14th.
Evelyn Jean Pine premieres a section from her new play, THE FAR-SIDE OF THE MOON IS CLOSER THAN YOU THINK at Solo Sundays at StageWerx in San Francisco on Sunday, April 14, at 7:00 PM.

Madeline Puccioni's new full-length, #AMERICAN NIGHTMARES, is short-listed for Orlando Shakes. Also, her BRIDAL ROSE, a short play written for PlayGround's February Monday Night series, will be produced by Cold Comfort Theatre in Belfast, Maine in May. Many thanks to Annie and Recess for helping her revise BRIDAL ROSE.

Cathleen Riddley just concluded understudying for ACT's HER PORTMANTEAU at The Strand and is available for work, so hire her!

Diane Sampson's short play, THE TALE OF THE SLEEPING CUTIE will be performed on May 5 in a staged reading at the Queens Theatre in New York. It was the pre-cursor of Diane's and Doug Katsaros's full-length musical of the same name, co-produced by PlayGround in 2014.

Jonathan Spector's play EUREKA DAY won the 2019 Bay Area Theatre Critics Circle Award for Best Original Script.

Emilie Talbot is appearing in BREAKING THE CODE by Hugh Whitmore at The Jewel Theatre in Santa Cruz (along with Maryessa Wanlass and Rolf Saxon) March 20- April 14.

Lucy Urbano is playing Teeny in Ubuntu Theatre Project's production of DOWN HERE BELOW by Lisa Ramirez and directed by Michael French, from April 8 – May 11.

Tracy Ward's ACTUALLY by Anna Ziegler is playing to critical acclaim at The Aurora Theatre Company in Berkeley opening through May 6. Rush tickets are available most nights.

Lauren Yee was one of the recipients of the 2019 Whiting Awards for Emerging Writers. She is also joining Signature Theatre Company's Residency 5 Program, which guarantees Lauren 3 premiers over the next 5 years.