Innovator Incubator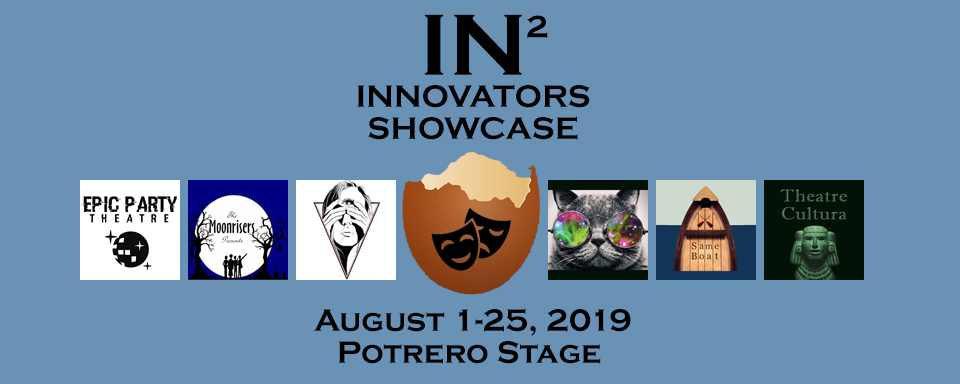 The PlayGround Innovator Incubator is a multi-year intensive incubation program to support theatrical innovation and the launch of new innovative theatrical production companies. Each year, PlayGround will competitively select up to 6 projects/teams, providing each with access to a suite of services and resources in support of their initial development, first production, and strategic plan for post-incubation sustainability. In August each year, PlayGround will present the Innovators Showcase, a four-week new works showcase, featuring world premiere productions and numerous other new play developmental activities and staged readings highlighting the work of Innovator Incubator participants. The 2019 Innovator Incubator cohort was announced on January 28, 2019. Guidelines for the 2020 cohort are now available and applications are due by December 1, 2019.
2019 INNOVATORS SHOWCASE
August 1-25, 2019
Potrero Stage
A festival of new works by six innovative new theatre companies!
TICKETS READ THE PRESS RELEASE
INNOVATORS SHOWCASE PRODUCTIONS
Theatre Cultura presents
¡CHEER! Story of a Dreamer
written and directed by Linda Amayo-Hassan
August 1-11, 2019 (Thu-Sat at 8pm, Sun at 7pm)
http://playground-sf.org/theatrecultura
Poltergeist Theatre Project presents
THE JULIE CYCLE
Adapted from Miss Julie by August Stringberg
August 5-7 & 19-21, 2019 (Mon-Wed at 8pm)
http://poltergeistproject.org
Queer Cat Productions presents
THE GAY DIVORCE PLAY
Co-written by Carson Beker & Nicole Jost, with Genevieve Jessee.
August 15-25, 2019 (Thu-Sat at 8pm, Sun at 7pm)
https://www.queercatproductions.com/
INNOVATORS SHOWCASE WORK-IN-PROGRESS PRESENTATIONS
Same Boat Theater Collective presents
THE EMERYVILLE HORROR
Co-written by Linda Amayo Hassan, Lynn Aylward, Lisa Kang, Ellen Koivisto, & Bridgette Dutta Portman
August 11, 2019 at 2pm
https://www.sameboattheater.org/
Epic Party Theatre presents
SLAY/WERK/STRUT
Conceived and directed by Richard A. Mosqueda
August 24, 2019 at 3pm
https://www.epicpartytheatre.org/
The Moonrisers present
DARLING MARJORIE'S ARBORETUM
Written by Christopher Magee
August 25, 2019 at 2pm
https://themoonrisers.com/
2019 INNOVATOR INCUBATOR PARTICIPANTS
Congrats to our Innovator Incubator Class of 2019. Read below to learn about the selected companies, leadership teams, missions, initial projects, and how you can follow them and support their work. All Innovator Incubator projects are fiscally sponsored by PlayGround (Federal ID 94-3336399) and contributions are tax-deductible to the extent allowed by law.
Epic Party Theatre
Moonrisers Theater Company
Poltergeist Theatre Project
Queer Cat Productions
Same Boat Theater Collective
Theatre Cultura
---
EPIC PARTY THEATRE
Leadership Team: Richard A. Mosqueda, Nikki Meñez, Alejandro Emmanuel Torres
The Epic Party Theatre is committed to producing new, wildly ambitious theatrical explorations of varying genres created by and for communities of color. We strive to showcase, celebrate, and support uniquely gifted local and nationally recognized artists of color.
DONATE WEBSITE FACEBOOK TWITTER
---
MOONRISERS THEATER COMPANY
Leadership Team: Christopher Magee, Michael Magee, Angel Hertslet
Mission: Moonrisers is dedicated to creating new works featuring the bizarre, the magical, and the surreal, that joyously celebrate escapism and embrace comedy of the absurd. To never linger overlong on a success but hurtle forward with new, exciting projects. To plant a seed of levity in our audience that can be carried and shared with others, in abundance.
DONATE WEBSITE FACEBOOK TWITTER
---
POLTERGEIST THEATRE PROJECT
Leadership Team: Britt Lauer, Chris Steele
Mission: Theatre that follows you home. Honoring San Francisco's strong tradition of revolutionary art that ignites the flame of cultural and societal progress, Poltergeist creates radically queer, feminist, intrinsically participatory theatre. Whether  highlighting work by new artists or subverting and reframing a problematic public domain play to create a brand new adaptation, Poltergeist seeks to normalize and centralize Other narratives. Focusing on the tenets of inclusivity, representation, and accessibility, Poltergeist seeks to remind this city of its deep roots in queer art.
DONATE WEBSITE FACEBOOK TWITTER INSTAGRAM
---
QUEER CAT PRODUCTIONS
Leadership Team: Carson Beker, Nara Dahlbacka, Nicole Jost
Queer Cat Productions creates playful, perspective-queering, boundary-pushing theater and immersive experiences at the intersection of theater, games, and storytelling. We are committed to to curiosity about evolving forms; haunting : memory, resilience, genre-fluidity; and to the spirit of play , as interactive and consensual, as a space for risk and spectacular failure, as stories that we co-create, storytellers and audience, and that create us in return.
DONATE WEBSITE FACEBOOK TWITTER INSTAGRAM
---
SAME BOAT THEATER COLLECTIVE
Leadership Team: Lisa Kang, Ellen Koivisto, Bridgette Dutta Portman
Same Boat Collective's purpose is to raise awareness about and inspire action against the pervasive environmental degradation that threatens our quality of life and community welfare. The collective aims to embody the diversity of our region's voices, telling stories about, for, and with minority and lower-income communities who are the first affected by toxins and worsening environmental conditions, but who have the least say in what is done in their neighborhoods. We want to educate and to connect: to help people find their places in a complex and fragile ecosystem, to link communities with one another, and to show individuals their ability to take responsibility and to take action.
DONATE WEBSITE FACEBOOK TWITTER INSTAGRAM
---
THEATRE CULTURA
Leadership Team: Linda Amayo-Hassan, Janelle Aguirre, Dov Hassan
The mission of Theatre Cultura is, first and foremost, to provide the opportunity for local and national Latina theater artists to have a place for their voices to be heard in high quality, deeply invested productions. TC's intention is create theater that will inspire, inform, challenge, empower, embrace and reflect the lives and communities of Latinas of the SF Bay Area and around the country. Themes of immigration, Latinx and women's issues will provide the main focus for content. Plays will mostly be original and selected from active, working Latina playwrights from around the country.
DONATE WEBSITE FACEBOOK TWITTER
---