Festival of New Works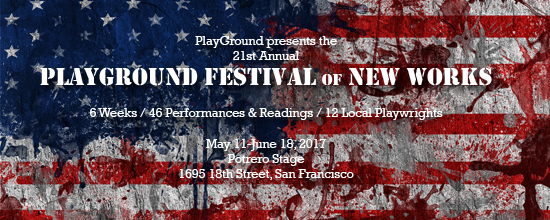 Our yearly Festival of New Works, over 20 years running, features performances of our top Monday Night plays through Best of PlayGround, two full-length Commissioned Plays performing in rep, a series of Staged Readings, and the finalists of our Young Playwrights Project.
---
21st PlayGround Festival of New Works
Performances of the Best New Plays by the Bay Area's Best New Writers!
May 11-June 18, 2017
Potrero Stage, 1695 18th Street (off Arkansas Street), San Francisco
Tickets: $25-$55
All-Festival Passes start at just $93!
Single Tickets to individual Festival events are available via the links below:
BEST OF PLAYGROUND 21 (May 11-28)
HEDGE by Robin Lynn Rodriguez (May 15-June 17)
KANO + ABE by Ignacio Zulueta (May 22-June 18)
FESTIVAL STAGED READINGS (May 20-21 & May 27-28)
YOUNG PLAYWRIGHTS PROJECT (May 18-21)
See the Festival Playbill HERE
---
All-Festival Pass
The All-Festival Pass includes one priority admission to each program in the 21th annual PlayGround Festival of New Works: Best of PlayGround 21, Hedge, Kano + Abe, and the four staged readings. Passes are $63 for 2017-18 PlayGround Subscribers and $93 for non-subscribers ($190 value).
To subscribe and save even more, click here. Already a subscriber? Get your discounted All-Festival Pass for $63 by emailing info@playground-sf.org