Your Invite to PlayGround's Solo Fest Open Mic Night!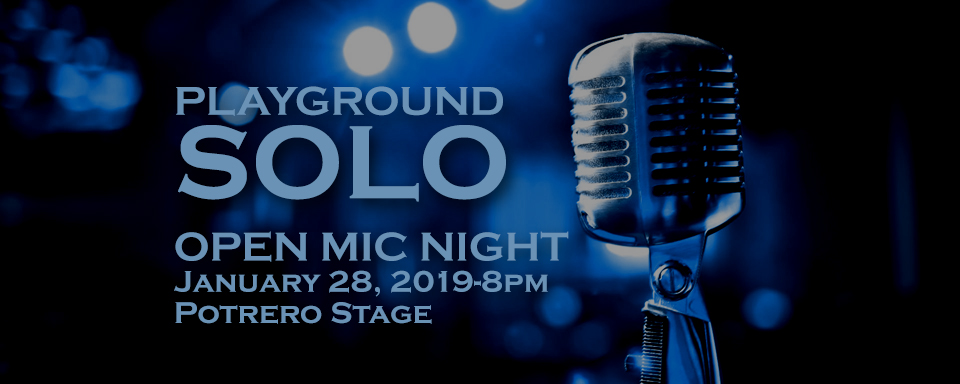 Are you an emerging performance artist developing your first solo show? A veteran looking to try out new material? Or just a die-hard fan of solo performance? Join us on Monday, January 28, 8pm-9:30pm, at Potrero Stage for our first-ever Solo Fest Open Mic Night! Artists can put their name in a hat when they arrive (box office will open at 7:30pm and all tickets are PWYC/suggested donation) and Master of Ceremonies Michael Phillis will begin randomly drawing names at 8pm for the evening's lineup. 6-8 artists will be selected and each artist will be invited to perform up to ten minutes of new material (with a brief intermission halfway through). All variety of solo performers are encouraged… storytellers, monologuists, clowns, musicians, movement artists, comedians, and more! Come support and participate in an evening of all-new solo performance and perhaps get a glimpse of what might be in store at our 3rd annual PlayGround Solo Performance Festival (coming in January 2020)!
RSVPs are encouraged. To RSVP, email boxoffice@playground-sf.org and indicate if you are planning to submit for the Open Mic Night lottery. Artists must arrive before 8pm on January 28 to be included in the lottery.
PlayGround presents the second annual PlayGround Solo Performance Festival, a celebration of the best in Bay Area solo performance, January 24-February 10 at Potrero Stage. The festival features 12 double-bill performances by 11 local artists over three weeks, including new works by Ron Campbell, Julie Gieseke, Malcolm Grissom, Emil Guillermo, Michael Phillis, Fred Pitts, Kathryn Seabron, and Talisha Tolliver, as well as special guests Marga Gomez, Matthew Martin, and Nina Wise, with each evening running a little over two hours. PlayGround opens the program to the next generation of performers with a special Open Mic Night on Monday, January 28, at 8pm. The festival, initiated last winter as one of PlayGround's new "pop-up" programs, represents an extension of PlayGround's mission and commitment to the discovery of bold new voices for the stage and the first PlayGround offering fully dedicated to solo performance. Tickets, on sale beginning December 1, are $31-$46 and All-Festival Passes start at just $93 (unlimited access to all 11 artists, 12 performances and a reserved seat for Open Mic Night). For more information or to purchase tickets, visit http://playground-sf.org/solofest or call (415) 992-6677.