PlayGround's 25th Season Celebration!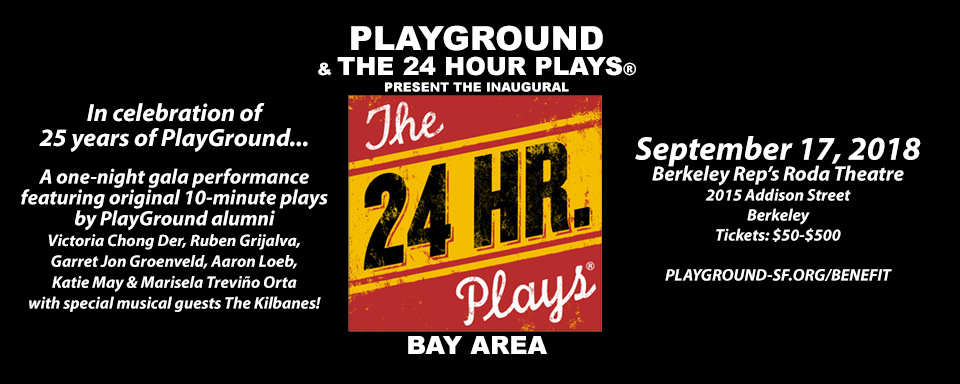 PlayGround, the Bay Area's (and now Los Angeles') leading playwright incubator, will mark the opening of its twenty-fifth season with a special one-night gala celebration and performance, and the launch of a bold new partnership. In collaboration with NYC-based The 24 Hour Plays®, PlayGround will present the inaugural The 24 Hour Plays: Bay Area, featuring fully produced and performed (i.e., off-book) performances of six original ten-minute plays by distinguished PlayGround alumni, written and developed over just twenty-four hours, and staged by an all-star cast of leading local directors and actors, on Monday, September 17, at Berkeley Rep's Roda Theatre. While PlayGround has built a reputation for its award-winning ten-minute play development program, Monday Night PlayGround, involving highly physicalized script-in-hand staged readings of short plays written in just four-and-a-half days, The 24 Hour Plays: Bay Area offers a unique opportunity to see fully-produced performances by PlayGround veterans and special guests, all created in just twenty-four hours! Performance-only tickets are $50 ($25 for students), and tickets including the performance and a VIP pre-show reception are $100-$500. All proceeds will benefit PlayGround's soon-to-be-announced 25th season and ongoing playwright incubator programs. For tickets and more information, visit http://playground-sf.org/benefit.
For this special one-night gala performance, PlayGround and The 24 Hour Plays have drawn from some of PlayGround's and the Bay Area's most distinguished alumni playwrights of the past twenty-five years. Participating writers include founding PlayGround playwright Garret Jon Groenveld (The Empty Nesters), and alumni Aaron Loeb (Abraham Lincoln's Big Gay Dance Party, Ideation), Marisela Treviño Orta (The River Bride), Katie May (Manic Pixie Dream Girl, Abominable), Ruben Grijalva (Value Over Replacement, Anna Considers Mars), and Victoria Chong Der (The Potrero Nuevo Project, Vignettes on Love). The evening's program includes special musical guest, The Kilbanes (Weightless), and will be co-chaired by producers/actors John Walker (Pixar, The Incredibles 2) and Pamela Gaye Walker (The Empty Nesters).
"We're delighted to be making the first visit in our 23-year history to the Bay Area," said Mark Armstrong, Executive Director for The 24 Hour Plays, "and to be partnering with an organization that's as passionately devoted to new work and new voices as we are. We're looking forward to celebrating and supporting PlayGround on September 17 and in the years to come." PlayGround Artistic Director Jim Kleinmann added, "We've long admired the work of The 24 Hour Plays and the occasion of our 25th season celebration seemed a particularly opportune time to launch this bold new partnership."
PlayGround, the Bay Area's leading playwright incubator, provides unique development opportunities for the Bay Area's best new playwrights, including the monthly Monday Night PlayGround staged reading series, annual PlayGround Festival, full-length play commissions and support for the production of new plays by local playwrights through the New Play Production Fund, among others. Founded at San Francisco State University in 1994 by Jim Kleinmann (Artistic Director), Brighde Mullins, and Denise Shama, PlayGround has supported more than 200 local playwrights in the development and staging of 850 original short plays and 75 new full-length plays over the past two decades, including 27 that have since premiered in the Bay Area. PlayGround alumni – including some of the most distinguished new writers coming out of the Bay Area, such as Aaron Loeb, Lauren Yee, Peter Sinn Nachtrieb, Geetha Reddy, among others – have gone on to win local, national, and international honors for their short and full-length work, including recognition at the O'Neill National Playwrights Conference, Humana Festival, Sundance Festival, The Lark, Bay Area Playwrights Festival, and New York International Fringe Festival, among others. In 2017, PlayGround completed renovations on its San Francisco home, Potrero Stage: PlayGround Center for New Plays, a 99-seat state-of-the-art performance venue and home to some of the Bay Area's leading new play developers and producers, including PlayGround, Crowded Fire, Golden Thread, and Playwrights Foundation, among others. For more information on PlayGround and Potrero Stage, visit http://playground-sf.org.
The 24 Hour Plays® (Mark Armstrong, Executive Director) bring together extraordinary artists to create time-limited theater around the world. Past participants in The 24 Hour Plays include Jennifer Aniston, Elizabeth Banks, Leslie Bibb, Jason Biggs, Wayne Brady, Laverne Cox, Billy Crudup, David Cross, Alan Cumming, Hugh Dancy, Rosario Dawson, Daveed Diggs, Peter Dinklage, Rachel Dratch, Jesse Eisenberg, Gloria Estefan, Edie Falco, Jesse Tyler Ferguson, America Ferrera, Michael Ealy, Jenna Elfman, Megan Fox, Greta Gerwig, Carla Gugino, Josh Hartnett, Oscar Isaac, Cheyenne Jackson, Scarlett Johansson, John Krasinski, Zachary Levi, Anthony Mackie, James McAvoy, Aasif Mandvi, Julianna Margulies, Eva Mendes, Adrienne Moore, Julianne Moore, Tracy Morgan, Javier Muñoz, Cynthia Nixon, Lynn Nottage, Maulik Pancholy, Anna Paquin, Amanda Peet,  Jay Pharoah, Rosie Perez, Phylicia Rashad, Retta, Chris Rock, Sam Rockwell, Emmy Rossum, Liev Schreiber, Amanda Seyfried, Wallace Shawn, Gabourey Sidibe, Jamie-Lynn Sigler, Sarah Silverman, Jordin Sparks, Amber Tamblyn, Tracie Thoms, Maura Tierney, Marisa Tomei, Nia Vardalos, Naomi Watts, Michael Kenneth Williams, Vanessa Williams and many more! In addition to The 24 Hour Plays and The 24 Hour Musicals on Broadway, regular events take place in London, Los Angeles, Dublin, Minneapolis, Germany, Athens, Finland, Mexico City and Florence. Through collaborations with organizations including Dublin Youth Theatre, Roundabout Theatre Company, The Lillys, Urban Arts Partnership, The Orchard Project, Bennington College, Hennepin Theatre Trust, The University of Minnesota-Duluth, Cornerstone Theater Company, and The Del Sole Foundation, The 24 Hour Plays have raised millions of dollars for charities. For more information on The 24 Hour Plays, visit www.24hourplays.com.
For more information or to purchase tickets to the inaugural The 24 Hour Plays: Bay Area, visit http://playground-sf.org/benefit.
WHAT: PlayGround and The 24 Hour Plays® present the inaugural The 24 Hour Plays: Bay Area, a one-night gala performance and benefit celebrating PlayGround's 25th season and in support of PlayGround's award-winning playwright incubator programs, featuring original ten-minute plays by Victoria Chong Der, Ruben Grijalva, Garret Jon Groenveld, Aaron Loeb, Katie May, and Marisela Treviño Orta, with special musical guests, The Kilbanes.
WHERE:         Berkeley Rep's Roda Theatre, 2015 Addison Street, Berkeley, CA
WHEN:           Monday, September 17, 2018 at 8pm (VIP pre-show reception at 6:30pm)
TICKETS:      Tickets are $50-$500.  For more information about The 24 Hour Plays: Bay Area, call (415) 992-6677 or visit www.PlayGround-sf.org/benefit.