PlayGround-Potrero Stage Memberships!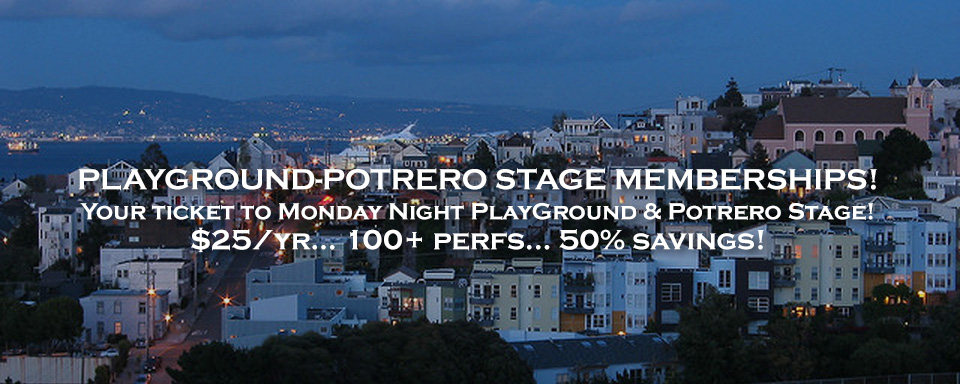 In 2017, PlayGround completed extensive renovations on the former Thick House Theater and relaunched it as Potrero Stage: PlayGround Center for New Plays, a state-of-the-art performance venue dedicated to new plays and new voices for the stage. Now, on the 20th anniversary of Thick House's opening, we launch the next stage in our continued growth and development!
PLAYGROUND-POTRERO STAGE MEMBERSHIPS!
We're pleased to introduce your ticket to a season of great theatre at PlayGround and Potrero Stage… the PlayGround-Potrero Stage Membership! A PlayGround-Potrero Stage Membership provides significantly discounted access to more than 100 performances and readings each year by some of the Bay Area's leading new play developers and producers. For just $25 a year, you'll enjoy a 50% discount** on our celebrated Monday Night PlayGround staged reading series at Berkeley Rep and the extensive year-round offerings at Potrero Stage, including shows by resident companies PlayGround, Crowded Fire Theater, and Golden Thread Productions, as well as Playwrights Foundation's annual Bay Area Playwrights Festival, world and regional premieres by up-and-coming companies Bread & Butter Theatre and Quantum Dragon Theatre, and more! Members will also enjoy exclusive behind-the-scenes access and events.
Join today and recoup the cost of your membership with the purchase of a 2019-2020 Monday Night PlayGround subscription ($90; reg. $180) or your first pair of tickets purchased to any show(s) at Potrero Stage, including the upcoming PlayGround Festival of New Works!
Have questions? Email us at info@playground-sf.org or call (415) 992-6677.
** A 50% discount will be available to members for all Monday Night PlayGround performances and select performances within each production and public program at Potrero Stage (generally at the beginning of each run and comprising approx. 50% of all performances). Other exclusive member discounts may be offered for remaining performances on a company-by-company basis. Member discounts can be applied on up to 2 tickets per production or event, purchased in advance online, and subject to availability. Discounts and offers may not be combined.