PlayGround Company in the News Oct-2018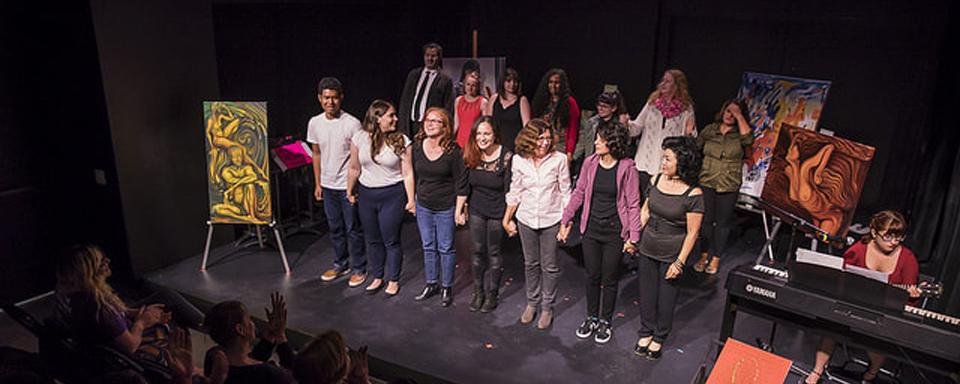 Read on to learn more about PlayGround Company Member and Alumni recent news, current happenings, and upcoming events.
Laylah Muran de Assereto's full length BORDERLINE receives a staged reading at the SF Olympians Festival on Oct. 5th. Laylah is also directing B8's production of REPRORIGHTS! A Collection of Short Plays written by various local playwrights, including PlayGround members/alumna Evelyn Jean Pine, Madeline Puccioni, Elizabeth Flanagan, Jennifer Lynne Roberts, Jeanie Ngo, Rachel Bublitz, and Nicole Jost, among others. http://reprorights.weebly.com/
Jonathan Spector's play EUREKA DAY will have a reading in South Coast Rep's NewScripts Series, on Monday October 22nd. https://www.scr.org/plays/newscripts-reading-series
Brian Herndon is performing in OSLO at Marin Theatre Company, now through October 21. https://www.marintheatre.org/productions/oslo
Rosie Hallett and Lauren Spencer will be performing in Men on Boats at A.C.T., October 17-December 16, 2018. http://www.act-sf.org/home/box_office/1819_season/men_on_boats.html
Rachel Bublitz's full-length RIPPED will be read in Z Space's Problematic Play Festival Saturday, October 13th. For more information and to RSVP: http://www.zspace.org/ripped/.
Patricia Cotter is proud to share the news that her niece, Grace Paratore, has been invited to join the PlayGround-LA acting ensemble this season. PlayGround – SF and LA: keeping it in the family.
Gwen Loeb is performing with SF Playhouse in GRAVEYARD SHIFT by Korde Tuttle from Oct 10-Nov 3.
Emilie Talbot will be appearing in world premiere of THE RESTING PLACE at The Magic, October 10- Nov 4. http://magictheatre.org/season/the-resting-place
Douglas B. Giorgis has been cast in his first Podcast, The Henry Rios Mysteries, and will be giving voice to the recurring role of Grant Hancock.
Jed Parsario is currently in his A.C.T. debut in SWEAT at the Geary Theater, Sep 26 – Oct 21, https://bit.ly/2IV79QU
Cindy Goldfield is directing I'm Coming Out: A Celebration of Courage, Pride and Living Out Loud for Oakland School for the Arts, and AbFab for Oasis Nightclub, starring Michael Phillis. In November, she starts rehearsal for her 15th season of A Christmas Carol at ACT.
Maryssa Wanlass hosts political variety show Dêmos Krátos Theátro, a hilarious and thought provoking evening of short plays, music, and clowning. October 5 and 6, 7pm, at PianoFight. http://www.utopiatheatreproject.com
Melanie Marshall will be performing in Buffy LIVE! at Oasis, October 11-November 3.  https://sfoasis.com/events/buffy-the-vampire-slayer-live2018
Will Dao is finishing his fourth season at the Oregon Shakespeare Festival where he is currently starring as Rocket Wu in the American premiere of SNOW IN MIDSUMMER running until 10/27/18. Learn more at: https://www.osfashland.org/en/productions/2018-plays/snow-in-midsummer.aspx
George Maguire's film GENERATIONS will be shown at the Alameda International and the Napa Film Festivals. He recently shot roles in the films, THE NIGHT, THE STAND AT PAXTON COUNTY, and THE HALL.
Aaron Wilton is performing in Cinnabar Theater's The Great God Pan from Oct. 12-28.  http://cinnabartheater.org
Joseph Patrick O'Malley was recently nominated for a TBA Award for his work in War of the Roses at Cal Shakes. He will be performing in Creditors at Aurora Theatre Co. beginning January 25th. https://tinyurl.com/ydg3srwk
Michael Barrett Austin is performing in THE BEST LITTLE WHOREHOUSE IN TEXAS at 42nd Street Moon October 3-21! http://42ndstmoon.org
Joy Carlin is directing DANCING LESSONS by Mark St. Germain at Center Rep in Walnut Creek. It opens on October 23 with Craig Marker and Sharon Rietkerk .
Rebecca Pingree will play Feste in ASF's Twelfth Night at Royce Gallery in SF from Nov. 1 to Nov. 18. http://arabianshakespearefestival.org
Playwrights' Center of San Francisco will be holding a developmental reading of Lisa Kang's short plays, AND SHE RETURNS, on Monday, Oct. 8, 7:30pm at Jean Shelton Theater. http://playwrightscentersf.org/stagedreadings/synopses/PCSFFall2018ReadingSeries.htm#Kang
Tom Bruett will be directing Hansol Jung's Cardboard Piano at New Conservatory Theatre Center, October 26-December 2. https://www.nctcsf.org/shows/201819season/Cardboard-Piano
Nic Sommerfeld's play for this year's SF Olympians Festival will be performed as a staged reading at The Exit Theater on October 12th.  Nic will also be performing as the Tin Man in Berkeley Playhouse's upcoming production of The Wizard of Oz.  The show runs from October 9th till December 23rd.
Elizabeth's Flanagan's play NEPTUNE will be part of the San Francisco Olympians Play Festival on October 18th. https://www.facebook.com/events/245849536118307/
Her play OTHER TITLES will be produced by B8 Theatre Company (in co-production with ReproRights) October 11-27th. https://www.facebook.com/events/469679010179924/
Ken Sonkin is directing Humble Boy at CCCT in El Cerrito 2/15/19 (http://ccct.org/), Cabaret at Lucky Penny 5/31/19 (http://www.luckypennynapa.com/), and The Oldest Living Cater Waiter at 42nd Street Moon 6/23/19 (http://42ndstmoon.org/).
Molly Krost will be sharing her work at Lit Crawl 2018! She will be reading with fellow writers from the SFSU Creative Writing program at Faye's Video from 6:30-7:30. Free event! More info at: http://sched.co/G4Ax
Ellen Koivisto's play about detained migrant children, Rules of the Game, will be performed at Red Poppy Art House for MAPP on 10/6, at The Lighthouse on 10/7, 14, and 21, at the Koret Auditorium in the main library on 10/22, and at Book Passage on 11/11.  More information available at https://seiche-productions.jimdosite.com.
Karen T. Hartline is excited!!!  Her Pilot Catty P.I. made it to the finals in the Page Awards!  If you see me after October 15th, then be ready to jump up and down or to offer a hug of consolation, since that's the day I find out if I've actually won or not.  (Please note: I'm so bonkers happy I made it this far that I'll probably just want to jump up and down regardless.)
Jerome Joseph Gentes is directing a stage reading of VICTORIA: or, Statuesque by Annette Roman for the 2018 SF Olympians Festival. The play will be performed Saturday October 13 at The Exit Stage Left Theatre, 156 Eddy Street, SF. Tickets for all SF Olympians events are at https://www.brownpapertickets.com/event/3583969.
Michelle Ianiro thrilled to have completed and submitted her first short play for PlayGround 2018-19.  All the feels!  On Wednesday 10/3, Michelle's short play SISTERS will be read for Town Hall Theatre's Lit Up, at 7:00pm in Lafayette, CA. On Sunday, December 9th, Michelle's one-act, ELEANOR AND ME, will have its second reading at The Custom Made Theatre's Discover New Works series at 7:00pm.  Michelle is extremely happy and humbled by the opportunities to have her works read and discussed, all in the effort of moving forward towards the next steps in bringing her works from page to stage.
EQUAL OPPORTUNITY by Marsha Roberts will be produced as part of The Actors' Studio  Festival of Short Plays by Contemporary Playwrights in Newburyport, MA, Oct 12-21.
Annette Roman will be performing an excerpt from her solo show, Inauguration Vacation, as a part of the Times Unseen project (the goal of the project: to chronicle the political moment and how it affects people personally) at the Marsh, San Francisco, on Friday, October 19, at 7:30 and Saturday, October 20, at 4:00 pm.