PlayGround Company in the News May-2019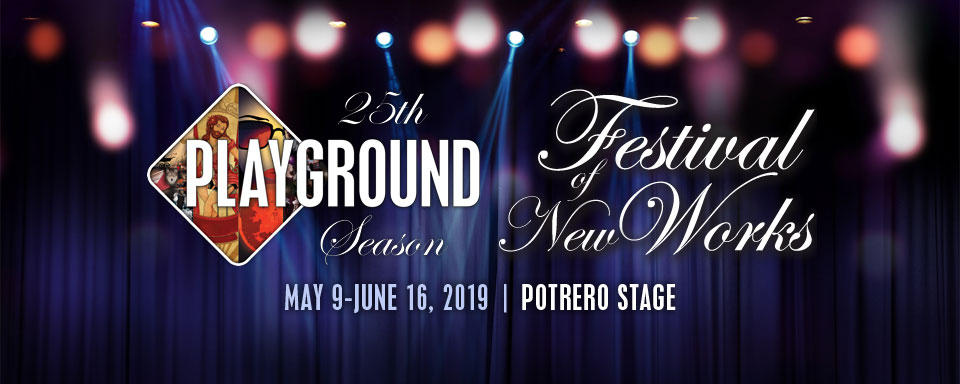 Read on to learn more about PlayGround Company Member and Alumni recent news, current happenings, and upcoming events as we get ready for PlayGround's 23rd Festival of New Works!
Katie May  is in the midst of rehearsal for A HISTORY OF FREAKS, which will open on May 15 as part of the PlayGround Festival of New Works! It is directed by Doyle Ott, and features Laura Espino, Sean Garahan, Stephanie Prentice, Patrick Russell, Steven Westdahl, and Elena Wright!

Rubin Grijalva's play ANNA CONSIDERS MARS will receive its world premiere at the PlayGround Festival of New Works on May 22, directed by Susi Damilano.  It features actorMelissa Ortiz, Wilma Bonet, Christian Haines, Soren Oliver, Katie Rubin, and Aaron Wilton.  

Linda Amayo-Hassan's play LA VIDA LOBO will be performed as part of Best of PlayGround 23.  Tessa Corrie is directing Jed Pasario, Caleb Cabrera, and Livia Gomes Demarchi as wolves in this piece.  

Mary Baird is still off the boards.  She is heading to Maui for a month then doing a reading of A DOLL'S HOUSE 2 at Coyote Stages in Palm Springs, June 2nd.

Julia Brothers will be appearing as God in WEIGHTLESS, a rock opera by The Kilbanes, at ACT's The Strand Theatre, April 29 0- May 12, 2019.

Tom Bruett's bird play JUST AS IT IS TODAY will be performed by Angel Adedokun and Caleb Cabrera in  Best of PlayGround 23. It will be directed by Ely Sonny Orquiza.

Rachel Bublitz's play RIPPED will have its World Premiere with Z Space, directed by Lisa Steindler. RIPPED runs May 22 – June 15, at Z Below in San Francisco.

AN AMERICAN LOVE STORY, Victoria Chong Der's  new play, will be read as part of PlayGround's Festival Staged Readings on May 25th at 4:00, directed by Laura Humphreys.    

Rebecca Ennals will start rehearsals in June for  her new work, AS YOU LIKE IT: A NEW MUSICAL.   Rebecca will be directing, music direction by Brendan Getzell, with original lyrics and music by The Kilbanes and Phil Wong. The cast includes Michael Barrett Austin, Regina Morones, Maryssa Wanlass, Anne Yumi Kobori, Dave Sikula, Norman Gee, Gwen Loeb, Akaina Ghosh, and Andrea J. Love. The show opens July 7 and runs through Sept 22 at Bay Area Parks – for free!

Sarah Gasser is so excited to be in rehearsals for A HISTORY OF FREAKS, ANNA CONSIDERS MARS, and 6 Staged Readings for the PlayGround Festival!

Norman Gee will be directing a staged reading of Nicki Spencer's  play, THE NINETY PERCENT, on May 26 at 1:00pm as part of PlayGround's Festival Staged Readings .  

Lauren Gorski is the Co-Editor-in-Chief of Exposition Review, a multi-genre digital literary journal. On May 3rd, Exposition Review will be publishing their next annual issue — Vol IV. "Wonder", featuring work from PlayGround writers/alumni Matt DeNoto, Ruben Grijalva, and an interview with Jeffrey Lo. Check it out at once it launches!  Her play A FEMINIST REVISIONIST HISTORY OF ROSEMARY'S BABY will be performed as part of  Best of PlayGround 23, featuring Angel Adedokun, Caleb Cabrera, and Livia Gomes Demarchi, Cathleen Riddley and David Stein, directed by Rondrell McCormick.  

Margo Hall is performing in the play JAZZ by Nambi Kelly at Marin Theatre Company opening April 30th.  

Daryl Anthony Harper performed post-production Voice Over work on the feature film release of BOLDEN, A MYTHICAL ACCOUNT OF BUDDY BOLDEN, THE CORONET KING OF NEW ORLEANS on May 3rd!  The film was directed by Dan Pritzker and stars  Gary Carr, Erik LaRay Harvey, Ian McShane.   On April 18th, he recorded a Character Voice Over on new McDonald's Spicy McChicken commercial for the Chicago area radio!

Sam Hurwitt's play WELL ACTUALLY is premiering in Best of PlayGround 23, featuring Cathleen Riddley, Jed Pasario, and Caleb Cabrera, directed by Katja Rivera.

Jim Kleinmann  will be directing Cathleen Riddley, Angel Adedokun, and David Stein in Nic Sommerfeld's DEAR SANTA, as part of Best of PlayGround 23

AFTER HUBRIS, Molly Olis Krost's ten-minute play, will be performed as part of Best of PlayGround 23.  Britney Frazier is directing Jed Pasario and David Stein in this retelling of the Icarus myth.  

Jonathan Luskin's play PERFECT will be read as part of PlayGround's Festival Staged Readings on May 25 at 1:30. It will be directed by Katja Rivera.

Alanna McFall is holding a release party for her debut novel on Saturday, June 22nd at Kinetic Arts Center in Oakland. The PlayGround community is invited to come and enjoy this event around the publishing of her paranormal road-trip novel, The Traveling Triple-C Incorporeal Circus!  She is also very excited to see her short play, THE THIRD DATE, performed as part of Best of PlayGround 23! It is being directed by May Liang, and performed by  David Stein and Livia Gomes Demarchi.  

Ross Peter Nelson's surreal one-act about a carnivorous chair will be presented by the Roaming Theatre Collaborative May 10-11 at Westmont College in Santa Barbara. More details in the link.

Molly Noble will walk across England's Coast to Coast Wainwright's Path this summer. She is directing  MIDDLETOWN (Fall 2019) and THE IMAGINARY INVALID (Spring 2020) in the COM Studio Theatre. She is preparing for a site specific production of THE SEAGULL in the gorgeous wilds of Mendocino (Fall 2020).  She is excited and over the moon grateful.

Louis Parnell will be performing in FOR HONOR, written and directed by Lee Sankowich May 9, 10 & 11th. He will then start rehearsals and be performing all summer in CABARET at the SF Playhouse June 26-Sept 14.

Stephanie Prentice will be donning a beard and reading tarot in PlayGround's A HISTORY OF FREAKS, by playwright Katie May, as part of the PlayGround Festival of New Works.

Geetha Reddy's play FAR, FAR BETTER THINGS is being presented by Shotgun Players as a co-production with Theatre First.  Directed by fellow PlayGrounder Katja Rivera, it runs through May 29 at Live Oak Theatre.

Cathleen Riddley is thrilled to be in the cast of Best of Playground!

Katja Rivera is directing Far, Far Better Things by Geetha Reddy, A co-production with Shotgun Players & TheatreFIRST presented at Live Oak Theatre. May 5-19.  She is also directing WELL, ACTUALLY by Sam Hurwitt in Best of PlayGround 23l as well as a staged reading of Jonathan Luskin's PERFECT in Playground's reading series on May 25.

Diane Sampson's short play, THE TALE OF THE SLEEPING CUTIE, will be performed on May 5 in a staged reading at the Queens Theatre in New York. It was the pre-cursor of Diane's and Doug Katsaros's full-length musical of the same name, co-produced by PlayGround in 2014.

Jonathan Spector's play SIESTA KEY will be in the Bay Area Playwrights Festival this summer. His play REPAIR THE WORLD will be part of the PlayGround Festival Staged Reading series on May 25 at 11:00am, directed by Jon Tracy.

Lucy Urbano is playing Teeny in Ubuntu Theatre Project's production of DOWN HERE BELOW by Lisa Ramirez and directed by Michael French, from April 8 – May 11. Her play, SNIP SNIP!, has been selected as a finalist for the 11th annual Klein Foundation Young Playwrights Project, presented as part of the PlayGround Festival of New Works.

Tracy Ward's production of ACTUALLY by Anna Ziegler played to critical acclaim at the Aurora Theatre Company in Berkeley.