October People's Choice Award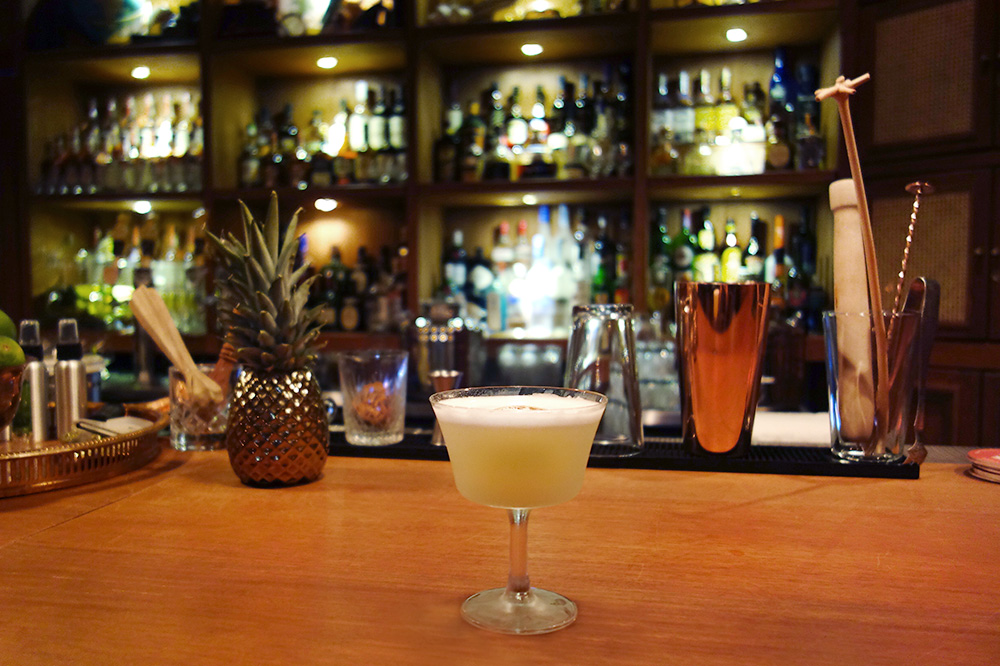 The people have spoken… The October People's Choice Award goes to Ruben Grijalva for his short play, Anna Considers A Cocktail, presented as a staged reading at Monday Night PlayGround on October 16 at Berkeley Rep. Congratulations, Ruben!
Courtesy of Mr. Grijalva, we're pleased to share the first two pages from the award-winning script. Enjoy!
ANNA CONSIDERS A COCKTAIL
by
Ruben Grijalva
CHARACTERS
ANNA – Female, 30s. Sharp-eyed and fast talking, with a mind that moves too fast for even a quick tongue to keep up. She's holding back two tons of heartache with a carefully constructed wall of snark.
WAITER – Male, 35 – 45, Hispanic. Hyper-accommodating, we should feel the tension between wanting to make a customer happy, and wanting to make all his customers happy. His English is good enough to work in Casco Viejo, a tourist district of Panama City, but sometimes Anna talks too quickly and metaphorically for him to catch everything completely.
DARRYL – Male, 30 – 40. Earnest and solutions-oriented, if lacking in imagination. Believes deeply that life is a series of engineering challenges, and doesn't get those who don't get that.
EARTHWORM JIM – Male 30 – 40. We only see him in the luckiest — can you believe it — moment of his life. Can double-cast Darryl as Jim, if necessary, with clever use of wardrobe.
LIGHTS UP on ANNA, at an outdoor cafe table bathed in tropical sun and cumbia music, dressed in a breezy, colorful ensemble appropriate for a hot, humid day doing nothing:
floral prints, no sleeves, hat. A WAITER buzzes in with a colorful tropical drink.
WAITER
Here you are, Señora.
ANNA
Thank you so much.
WAITER
De nada. Taste, make sure is good for you.
ANNA
Yes, I will, it looks so…
(ANNA holds up the cocktail, takes a deep breath, lets it out. WAITER reflexively mimics. He waits patiently while she watches the afternoon light flicker across the ice cubes.)
This is the best part, you know.
WAITER
It's very nice, yes.
ANNA
This moment, I mean. In all likelihood, everything goes downhill from here.
WAITER
No, no. It's nice day.
ANNA
Yeah, but it's a fundamental law. The tyranny of entropy: every road goes in the same direction. (She whistles, sketching the road's descent in the air with her finger: falling, falling, crashing, a mouthed explosion.
WAITER
(no idea, but hoping to be agreeable)
Okay.
ANNA
See, if I could freeze time — the best of all hypothetical super powers — I'd freeze now. I'd stay right here, just…staring at this glass.
(They stare together for a moment.)
WAITER
It's nice glass, yes?
ANNA
So nice.
(They stare some more. He's getting antsy.)
WAITER
Nice taste, too. Maybe I come back in a —
ANNA
No, please, stay a moment, I need — see, right now I'm kinda at the top of the roller coaster, okay, and from here I can see everything: the lay of the land, where I've been, where I'm going. Can you see it?
WAITER
(no idea, agreeable)
Oh yes. Looks very nice.
ANNA
Yes, very nice. So tiny, so abstract from up here. Like a map. The trees, buildings, the people, especially the people. So tiny they don't look like people. Just dots on a map — but in a good way, a way that lets you see them more clearly. Right?
WAITER
I think so.
ANNA
And I've just finished this jarring ascent — clack, clack, clack, clack, clack – all noisy and jostling, and you can't really think clearly during that part, you know?
WAITER
Yes?
ANNA
And any moment I'll be headed down, with all the adrenaline and wind in my face, and that doesn't lend itself to perspective-taking either, does it?
WAITER
No?
ANNA
No. But for one short moment I'm up here, all possibilities laid out clearly below, and the clacking lets up, and I'm here teetering in perfect silence. With a cocktail.
WAITER
Nice cocktail, yes?
ANNA
So nice. For all I know, it's the best goddamned cocktail in the whole world.
WAITER
Gracias.
ANNA
Or the worst.
——-
Join us for the next Monday Night PlayGround on Monday, November 20, at Berkeley Rep and choose your own favorite. Click here for more info.