INSIDE THE SOLO FEST… INTERVIEW WITH JULIE GIESEKE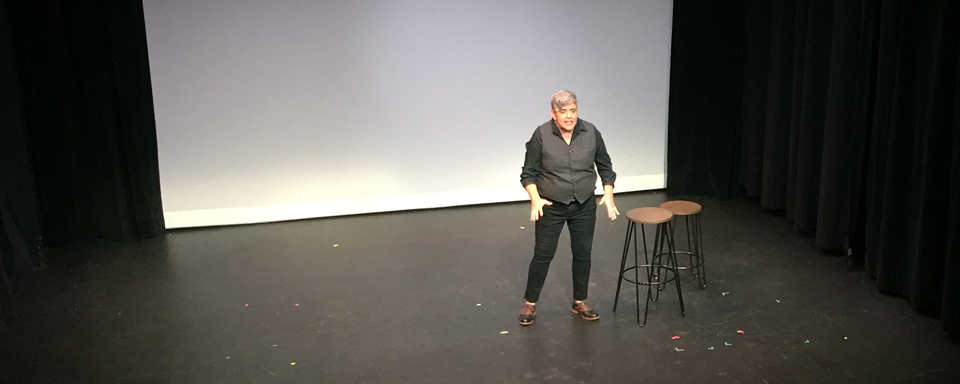 Inside the Solo Fest provides behind-the-scenes interviews with each of our featured artists in the 2nd annual PlayGround Solo Performance Festival, running through February 10 at Potrero Stage. In this issue, we introduce Julie Gieseke, who offers the final performance of her one-person show, BORDERLINE A**HOLE, this Saturday, February 9 at 8pm.
Julie Gieseke was a writer who didn't write until eight years ago when a solo performance workshop changed everything. Since 2011 Julie has written and performed 16 solo shows in the US and Canada. She has gained a loyal following for her courageously authentic and hilarious true stories.
What's your show about?
Dealing with my dying mother while my girlfriend at the time was convinced and then convinced me that I was a Borderline rather than just an a**hole.
How would you describe your performance style?
The evolution of my style has been an endeavor to be as authentic as possible, like I am one-on-one, in front of an audience, so who I am is moody, sometimes dark, sometimes somber, sometimes hilarious, always animated in face and body.
What can audiences expect with your show?
It's a ride, like in a fast car on a curvy road, sometimes thrilling, sometimes a little unsteady, but always safe.
Why solo performance? What's special about this art form and how does it serve the work you do?
This word may be over used but my experience of solo performance as a performer and as an audience member is that is can be transformational. I am drawn to stories that reveal the human experiences that make us cringe or that we might never want anyone to know but when they are revealed, they are funny and healing. Stories that make you think, "I can't believe she's saying that" and "Thank god she's saying that."
If you weren't doing solo performance, you'd be…
in a catatonic state as a result of deeply repressed creative expression.
Catch Julie Gieseke in BORDERLINE A**HOLE, February 9 at 8pm. For more information and tickets, visit http://playground-sf.org/solofest. ffffffff