Festival Staged Readings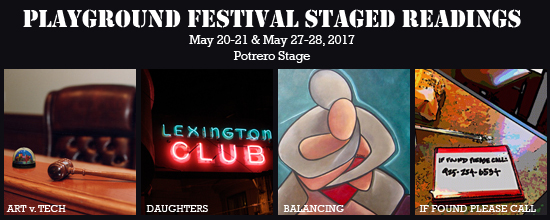 21st PlayGround Festival of New Works presents:
Festival Staged Readings
Four bold new works by Crish Barth, Patricia Cotter, Victoria Chong Der, and Kirk Shimano.
May 20-21 & May 27-28, 2017
Potrero Stage, 1695 18th Street (off Arkansas Street), San Francisco
Admission is free but advance online tickets reservations are recommended; capacity is limited!
For the complete Festival lineup, click here.
Join us for public staged readings of the best new full-length plays by the Bay Area's best new writers . Each play is presented twice over two weekends, with a chance to share feedback following each reading.
May 20, 12:00pm – Reading #1, Art v. Tech by Kirk Shimano, Directed by Christine Keating
May 20, 3:00pm – Reading #2, The Daughters by Patricia Cotter, directed by Katja Rivera
May 21, 11:00am – Reading #3, Balancing by Victoria Chong Der, directed by Britney Frazier
May 21, 2:00pm – Reading #4, If Found Please Call by Crish Barth, directed by Norman Gee
May 27, 1:00pm – Reading #5, Balancing by Victoria Chong Der, directed by Britney Frazier
May 27, 4:00pm – Reading #6, Art v. Tech by Kirk Shimano, directed by Christine Keating
May 28, 12:00pm – Reading #7, If Found Please Call by Crish Barth, directed by Norman Gee
May 28, 3:00pm – Reading #8, The Daughters by Patricia Cotter, directed by Katja Rivera
See the Festival Playbill HERE