An Interview with SCAPEGOAT Playwright Bill Bivins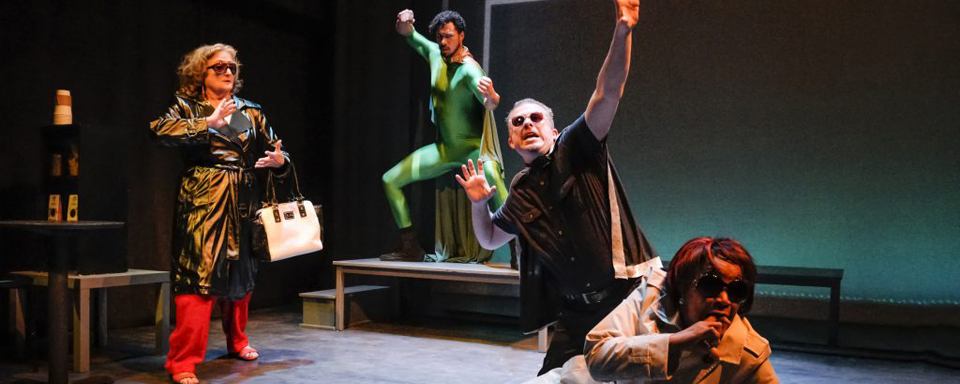 We recently sat down with playwright Bill Bivins to talk about his new play, Scapegoat, one of the two world premiere productions in this year's PlayGround Festival of New Works at Potrero Stage (the other being Julie Jigour's Bright Shining Sea), performing in rotating rep through June 17.
PlayGround: When did you first start writing for the theatre? Tell us a bit about your background as a playwright.
Bill Bivins: About 16 years ago I was a recovering screenwriter. I had been getting just enough success writing screenplays (i.e. selling options) to make me think I could make a go of it. When I realized that would require moving to LA—not an option at the time—gave it up and turned to a form I found more satisfying and creatively liberating: stage plays.
PG: How long have you been working with PlayGround? Any favorite memories/experiences?  
BB: I joined the PlayGround writers' pool for the 2012/13 season, and have been associated with PlayGround—pool writer, fellow, resident, commissioned playwright, etc—ever since.
My favorite experiences were the Math Nights during the regular Monday Night PlayGround season. I am not a math person—you might go as far as to say I have a math deficiency—so writing math plays forced me way outside my comfort zone as a writer. The experience ended up being quite rewarding. As it turned out, my two Best of PlayGround plays were ones I wrote for Math Night.
PG: What was the inspiration for your play?  
BB: The initial idea for Scapegoat bears little resemblance to the one on stage now. It was a straight-up comedy. Very goofy: a superhero whose power is the ability to absorb blame, angst, and negative thoughts. It didn't take long for me to realize I had little interest in writing such a play. But, I had a commission, so…. It was around that time that police shootings of black men were an upsettingly frequent occurrence, and I felt compelled to address it, as well as to explore the role of art in bringing about social change. That's when the play started to gel.
PG: How has the play evolved over its development? What have you learned about your play that you maybe didn't know before?  
At some point it occurred to me that, as white guy, I probably had no business writing this play. Thankfully, that didn't occur until the first draft was finished and the play was about to have it's first table read, with a majority African-American cast. I thought, Shit, I am going to have my ass handed to me. The opposite happened. Everyone embraced the play. More importantly, ever since that first table read, I have relied on my colleagues of color—the actors and directors associated with Scapegoat's development over the years—to guide me and set me straight when I needed it. I owe each and every one of them a debt of gratitude.
PG: Why should people come see your play?  
BB: It's relevant and entertaining.
PG: If you weren't writing plays, what else would you probably be doing?  
BB: Gosh, I don't know. Writing screenplays again? (God forbid.)
PG: Anything else you'd like to share with the PlayGround community?  
BB: I joined PlayGround with precisely the hope of getting what I have now: a play commissioned and developed and produced. Without PlayGround, Scapegoat would not exist. Thank you, PlayGround!
PG: This year's Festival premieres are quite different in story and aesthetic. Did you get a chance to see Bright Shining Sea?
BB: I was so impressed with how deeply thoughtful Bright Shining Sea was about a topic that is hard to think about at all: the end of the planet. Julie treated it not only with poignancy it demands, but with humor and some whimsy and a lot of beauty. I was quite moved.
###
Scapegoat performs in rotating repertory with Bright Shining Sea through June 17. For more information on Bill and Scapegoat, including a video preview of the production, visit http://playground-sf.org/scapegoat.