About Us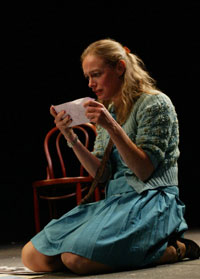 Mission
The mission of PlayGround is to support the development of new local voices for the theatre. PlayGround is the Bay Area's leading playwright incubator, providing unique opportunities for the cultivation and development of early-career local playwrights and partnerships with leading professional directors, actors and theatres. Through the development of original short and full-length plays, PlayGround creates a microcosm of the greater theatre scene, supporting emerging playwrights' experimentation and risk-taking, while helping them to hone their style and technique.
History
PlayGround was launched in 1994 by co-founders James Kleinmann, Brighde Mullins and Denise Shama. In 1996, Kleinmann assumed the position of Artistic Director. Since its founding, PlayGround has supported over 200 early career playwrights, developing and staging more than 850 of their original short plays through the Monday Night PlayGround staged reading series and Best of PlayGround Festival. PlayGround has also commissioned 75 new full-length plays by 45 of these writers through its Commissioning Initiative and has directly facilitated the premiere of numerous works through its innovative New Play Production Fund. In 2012, PlayGround launched the PlayGround Film Festival to develop and showcase original short films adapted by local writers and filmmakers from past Best of PlayGround short plays.
PlayGround's alumni have gone on to win not only local but also national honors for short and full-length work, including recognition at the Humana Festival, Sundance Festival, Bay Area Playwrights Festival, Aurora Theatre's Global Age Project, and N.Y. International Fringe Festival, among others. Works have been premiered at numerous theatres throughout the Bay Area, including: Shotgun Players (Ken Slattery's Truffaldino Says No), Impact Theatre (Lauren Yee's Crevice), Theatre Rhinoceros (Garret Groenveld's Missives), San Jose Stage Company (Trevor Allen's Tenders in the Fog and Lolita Roadtrip), Just Theater (Erin Bregman's Down a Little Dirt Road) and SF Playhouse (Aaron Loeb's First Person Shooter and Abraham Lincoln's Big Gay Dance Party, Geetha Reddy's Safe House, Daniel Heath's Seven Days and Kenn Rabin's Reunion). Of particular note is the aforementioned Abraham Lincoln's Big Gay Dance Party which, following its premiere at SF Playhouse in 2008, was subsequently produced at the New York International Fringe Festival in 2009 where it sold out its six-performance run in advance and was named "Outstanding Play" of the Fringe. In 2010, it received its off-Broadway debut and was performed around the country in 2011-12 and published by PlayScripts. PlayGround alumni are among the Bay Area's most sought-after new playwrights, regularly receiving readings, workshops, commissions and productions for their original work. A sample of Bay Area professional theatres currently or recently collaborating with PlayGround-developed writers includes: Magic Theatre, Playwrights Foundation, SF Playhouse, Shotgun Players, San Jose Rep, San Jose Stage Company, AlterTheater, Crowded Fire, New Conservatory Theatre Center, Impact Theatre, and Just Theater.
Over the past sixteen years, the Best of PlayGround Festival has served to identify some of the most important new local voices for the theatre. 57 playwrights and 110 of their short works have been featured in the Best of PlayGround Festival since 1997 and represent a who's-who of the Bay Area emerging playwriting community. Peter Sinn Nachtrieb, Aaron Loeb, Geetha Reddy, Garret Jon Groenveld, Daniel Heath, Lauren Yee… these are just a few of the artists PlayGround has supported at the earliest stages of their career, helping to introduce them to the professional theatre community of theatres, artists and audiences. In a 2008 survey of the Bay Area's most important up-and-coming playwrights conducted by Theatre Bay Area, 9 of 13 were PlayGround alumni and 7 of these had received one or more full-length commissions from PlayGround.
In addition to its company of playwrights, PlayGround maintains a company of leading Bay Area directors, actors, designers and technicians whose work is regularly seen on the Bay Area's top professional stages. PlayGround has actively positioned itself as a hub, bringing together hundreds of individuals and organizations representing the best in Bay Area theatre.
PlayGround received the inaugural New Plays Champion Award from the Playwrights Foundation in 2008 for its "exceptional contribution to the vitality of Bay Area Theater through 14 years of continuous service to emerging Bay Area playwrights." In 2009, PlayGround was awarded the Paine Knickerbocker Award from the Bay Area Theatre Critics Circle for its continuing contributions to Bay Area theatre.